Singing hopefuls are back at it with the new season of "American Idol" underway. As viewers tune in to watch whether contestants can stay in tune, they are also learning many personal stories about these singers and their backgrounds. Several American Idol contestants, for example, were adopted or have been touched by adoption in some way. In light of the 16th season of American Idol premiering last month, Adoptions With Love will explore some of their adoption stories and connections here.
Brandon Elder – Was Adopted
Brandon Elder is a construction worker from Alabama who won over the hearts of the "Idol" judges when he shared his adoption story. As he explained on the show, his birth mother was a teenager when he was born, and she "traded him" for a car to a couple who was also not ready to care for a child. Not long after, he was adopted as an infant by his mother, Patricia Elder. Patricia was a single yet determined mom who worked multiple jobs to help support her family. When Brandon was just 14 years old, Patricia was diagnosed with breast cancer. She passed away in 2016. Brandon sang an original song on American Idol, that he wrote about his mom. The judges were moved by his heartfelt adoption story and beautiful song.
Marcio Donaldson – Adoptive Parent
Marcio Donaldson won over the judges as soon as he showed up to audition with his baby boy in tow. The 28-year-old Compton native shared his story about his troubled upbringing, including the fact that he ended up in the state foster care system. His sister, also in foster care, eventually faced many substance abuse problems. When she had a baby, a police officer and social worker brought him to Marcio's home. Marcio's choice was to adopt his baby nephew, or let him go to the state system. Marcio adopted Rashaad and has been inspired to sing and try to provide him with a better life. "I didn't want him to go through what I went through," Marcio said through tears on the show.
MK Nobilette – Was Adopted
Being the first openly gay contestant in the show's history, MK Nobilette wowed the audience – and judges – in the show's original run during season 13. She was not the typical "American Idol," according to the judges, but they saw a ton of talent in the young singer. Nobilette finished in the 10th spot during her season. She was born in San Francisco and adopted by her two moms when she was a baby. While her mothers separated when she was four years old, they both now have girlfriends—resulting in a large and loving extended family, which Nobilette describes as "very San Francisco."
After her run on "American Idol", Nobilette signed a record deal with San-Francisco based Velvet Rhythm Entertainment, and her debut single "Make Believe" dropped in 2015.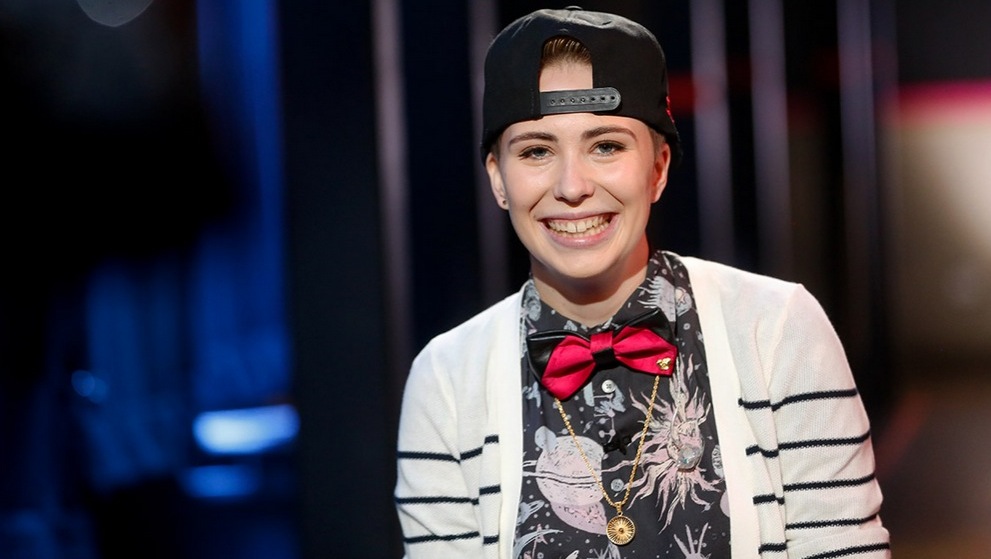 Aaron Kelly – Was Adopted
Fans of season 9 may remember an upbeat, talented 16-year-old who impressed the judges and hooked fans while his mother stayed in the wings to support the minor singer. Aaron and his two older brothers were adopted by their-then aunt and uncle, Kelly and Greg, when Aaron was just a toddler. The boys' biological parents were struggling financially, and so their aunt and uncle stepped in to avoid social services placing them in foster care. Aaron finished in the fifth spot on "Idol," becoming the youngest contestant to make it so far in the singing competition. He went on to appear on many daytime and late night shows, and has been recording music ever since.
Johnny White – Was Adopted
Before 19-year-old Johnny White impressed Lionel Richie on the most recent season of American Idol, he opened up about his tough upbringing. As he explained, his mother was addicted to drugs and his father was in prison for nine years. When Johnny was seven years old, he and his sister were placed in foster care. He was eventually adopted by a loving family, but says that the adjustment was not easy for him, and that he felt alone during this time. Music became Johnny's outlet, and once he met a teacher and vocal coach who believed in him, he decided to make his passion his life. Johnny floored the judges during the audition phase, but did not make it past Hollywood Week of Season 16. White has since returned to his day job of putting auto parts on an assembly line, but says he has not given up on his dream and will continue to sing and audition for "American Idol in the future."
As evidenced by this list, it is clear that adoption touches all kinds of people, even singing hopefuls of "American Idol." Check out our lists of famous men and famous women who have been touched by adoption.
If you would like to grow your family through adoption, please visit adoptionswithlove.org/adoptive-parents. If you know or love someone who is pregnant and would like to learn more about this choice, please do not hesitate to reach out by calling Adoptions With Love toll-free at 1-800-722-7731. We are here for you.