Adoption is never an easy decision, but it is one of the most loving decisions a woman can make for her child when faced with an unplanned pregnancy. It is also a beautiful way to grow a family for those who cannot have children. Maybe adoption has touched your life in some way. It has also touched the lives of many different female celebrities who we know and love.
When most people think of celebrity adoptions, they think of the Jolie-Pitt clan. But Angelina is not the only adoptive mama in Hollywood. Adoptions With Love has put together a list of some other famous women who have an adoption story to share – some who have adopted, some who were adopted, and some who lovingly chose an adoption plan for their babies. Take a look!
Kristin Davis (Adoptive Mother)
Most of us know Charlotte from Sex and the City as the character who constantly dreamed of getting married and having children – before, of course, adopting a daughter from China. Kristin Davis, like her role as Charlotte on the hit TV series, also chose to grow her family through adoption. Davis is a single mother to five-year-old daughter, Gemma Rose, who was adopted in 2011 through a domestic adoption agency, and is also a spokesperson for interracial adoption. On her own adoption story, the actress says:
"Adoption is a huge leap of faith for everyone involved. It has been a profound experience for me."
Sandra Bullock (Adoptive Mother)
You may know this Oscar-winning actress as "Miss Congeniality," or Leigh Anne Tuohy on The Blind Side, but behind-the-screens, she is simply known as "mom." Sandra Bullock is the mother of two children, Louis and Laila, who she adopted from foster care in Louisiana. Word has it that she is in the process of adopting a third child, who she will welcome home before the holidays this year. "My family is blended and diverse, nutty, and loving and understanding," she said in a 2015 PEOPLE interview. "That's a family."
Nicole Kidman (Adoptive Mother)
Nicole Kidman is well-known for many roles, but her most recent work really struck a chord with us (and with her) – In early 2017, we watched Kidman star as the adoptive mother of Saroo Brierly in the heart-wrenching film, LION (which Adoptions With Love covered here!). The actress confesses that she was drawn to this role specifically because she is an adoptive mother – she adopted two children, Isabella and Connor, in the early 90's with ex-husband Tom Cruise. LION, she says, is a "love letter" to them.
On adoption and being a mother, she says, "It's not about anything else other than 'I wanted you.' It's that deep and personal, and whatever your journey is, I'm here to love and support you."
Madonna (Adoptive Mother)
This pop-star is also the mama of six children, four of whom were adopted from Malawi, Africa – 11-year-olds David Banda and Mercy James and four-year-old twins Esther and Stella. Madonna has a continued relationship with her children's native country. In 2006, the singer founded Raising Malawi, a charity that supports orphans in Malawi through health, educational, and community support.
Katherine Heigl (Adoptive Mother)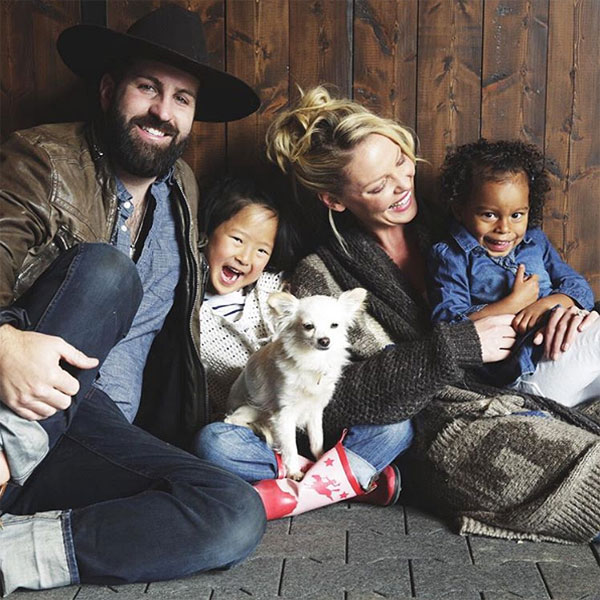 Even before she became an award-winning actress, Katherine Heigl knew that she wanted to adopt children. When Katherine was just three-years-old, her mother adopted her sister Meg from Korea. Katherine Heigl explains that she wanted a family that resembled the family in which she was raised, and adopted her daughter Naleigh from Korea in 2009. A few years after, Heigl and her husband adopted newborn Adalaide from Louisiana. In December 2016, the couple welcomed biological son, Josh, into the world, and may even continue to grow their family down the road. "I'd get pregnant again, and I still am very inspired by adoption," Heigl shares. "I also have been thinking a lot about fostering."
In an interview with Parent & Child Magazine, Heigl shared, "Anyone who doesn't have experience with adoption wonders, does love for a child come through DNA? I knew it didn't. My mother had biological children and an adopted child and said it made absolutely no difference. They're yours."
Faith Hill (Adopted Person)
Faith Hill is one of the most successful country artists of all time, and is also an advocate for adoption. This is largely due to the success of her own. Faith Hill was adopted in 1967 by Ted and Edna Perry. The Perry's had two biological sons and long wished for a daughter, but were told they could not have any more children biologically. "I was adopted into this incredible home, a loving, positive environment," Hill boasts. But growing up, she also felt a void. "I had this yearning, this kind of darkness that was also inside me." Hill desired to find her birth parents. Hill met her biological mother and brother in her 20s, and was fulfilled in finally finding someone that looked like her. She says of her birth mother's choice:
"I have a lot of respect for my birth mother and no feeling of anger or any of that. I know she must have had a lot of love for me to want to give me what she felt was a better chance."
Snooki (Adopted Person)
Despite her "Guido" style and love for Italian culture, many fans might be shocked to know that Nicole "Snooki" Polizzi is actually of Chilean heritage. The Jersey Shore star was adopted from Santiago, Chile at six-months-old. She was raised in both New York and New Jersey by Italian-American parents, Helen and Andy Polizzi. In a recent interview, Snooki revealed that she has researched her birth family, but has no interest in meeting them currently. She considers her adoptive family her "real" parents and that it may be too touchy a subject for her children at this time.
Kristin Chenoweth (Adopted Person)
Famed Broadway actress Kristen Chenoweth has always known she was adopted, and is very open about sharing her adoption story – as well as her remarkably positive perspective of adoption – with others. While the star recognizes that adoption is not always easy, she encourages the world to see adoption as a "full-circle blessing." She explains in her National Adoption Day blog post:
"First of all, it's a blessing (and a huge sacrifice) for a birth parent to make the decision to give his/her baby a better life. Sometimes people can't take care of that baby just yet… But what a gift they are giving to both that child and the family who wants to adopt.
Next, if you're thinking about adopting a child, remember that it's a gift you're getting and it comes with just as much responsibility as if you had your child biologically. On top of that, it's a beautiful blessing that you were chosen to take care of this child and become his or her parent.
And then lastly, as an adopted child, I encourage other adoptees to remember what blessed lives we have. We weren't abandoned; we were chosen. We were given a chance. I'm not saying it's not hard or that it's easy for people to understand. But it really isn't for the world to understand; it's for the people who are involved."
Joni Mitchell (Birth Mother)
Joni Mitchell was not always a Grammy-winning folksinger with platinum albums. At age 20, when she was still struggling to make it into the music scene, Joni found herself penniless and pregnant. She was not married at the time and was afraid to tell her parents about the baby. The biological father was not in the picture and, unable to provide for the baby on her own, Joni Mitchell chose to make an adoption plan. "I kept trying to find some kind of circumstance where I could stay with her," she told the Los Angeles Times, but ultimately made a choice in the best interest of her daughter. Joni Mitchell and her biological daughter, now 52 years old, reunited in 1997 and have a continued relationship.
Kate Mulgrew (Birth Mother)
You may know Kate Mulgrew as "Red" on the very popular TV series, Orange is the New Black, but did you know that she is also a birth mother who chose adoption? Mulgrew was a working actress in 1977 when she found herself faced with an unplanned pregnancy. She explains, "I was single, alone and flooded with terror. But I knew I would have that baby." The biological father suggested abortion, but that was not an option for Mulgrew, who felt that adoption was the only choice she could make. It was best for her baby.
Adoption touches all types of families, even those with big Hollywood names. Among these ten brave, compassionate, and selfless women, we also recognize celebrities like Hoda Kotb, Sheryl Crow, Jenna Ushkowitz, Roseanne Barr, Angelina Jolie, Jamie Lee Curtis, and the millions of other women affected by adoption. Do you know of any other famous women touched by adoption? Share their stories here!
If you would like to grow your family through adoption, please visit adoptionswithlove.org/adoptive-parents. If you are pregnant and would like to learn more about this choice, please do not hesitate to reach out by calling Adoptions With Love toll-free at 800-722-7731.