Baseball is America's favorite pastime. It is also a sport played by an array of American athletes, from all different backgrounds and walks of life. For example, there are some famous baseball stars who have been touched by adoption in some form – whether they were adopted or have grown their family through adoption.
With baseball season officially here (go Red Sox!), Adoptions With Love takes some time to explore some of the many adoption stories floating around the many Major League Baseball (MLB) teams. Here, we will learn more about these athletes who have hit a "home run" in the world of adoption!
Famous Baseball Players with Adoption Stories:
1. Aaron Judge (Yankees) was Adopted
Aaron Judge is a New York Yankee slugger who has been on the rise to fame. He credits much of his success to his parents, who have always supported his dreams. Wayne and Patty Judge, retired physical education teachers, adopted Aaron the day after he was born in April of 1992. The 2017 MLB Rookie of the Year told the New York Post that he felt "blessed" to have such a great relationship with his adoptive parents. "My parents are amazing, they've taught me so many lessons,'' Aaron said. "I honestly can't thank them enough for what they've done for me."
About his adoption, Aaron told the Post: "I feel they kind of picked me…I feel that God was the one that matched us together."
"We're more blessed than he is,'' Patty said. "Both of our children are adopted. Aaron has an older brother, John, 29, who is teaching English in Korea, and we're real proud of him, too. Really, it was all meant to be.''
"I know I wouldn't be a New York Yankee if it wasn't for my mom," number 99 told MLB.com. You can read more about Aaron Judge's adoption story here!
2. Rob Refsnyder (Yankees) was Adopted
Another New York Yankee star, Rob Refsnyder, has an incredible adoption story. His parents, Jane and Clint, adopted Rob when he was five months old. The couple was in Los Angeles in June of 1991 to get Rob's Visa approved, so that they could fly him in from his native country in Seoul, South Korea. Suddenly, the plans began to crumble – literally.
"Before our appointment, we were having breakfast in a building across the street, and the earthquake hit," Jane told Newsday. "Everybody ran out. Then I realized I left a briefcase with Robert's original documents inside. So I ran back in to retrieve it."
Jane made it out safely and Rob's Visa was approved. They welcomed him home in early September of that year. Rob was raised in Laguna Hills, California, along with his sister Elizabeth, who was adopted from Korea three years earlier. Rob has also talked about how blessed he feels to have such wonderful, caring parents.
"They are my biggest fans, my biggest supporters," Refsnyder told Newsday. "I have a great relationship with them. My dad and I are super close. My mom sacrificed a lot. She is super loving, super supportive. Couldn't ask for a better set of parents."
3. Tanner Houck (Red Sox) has an Adopted Sister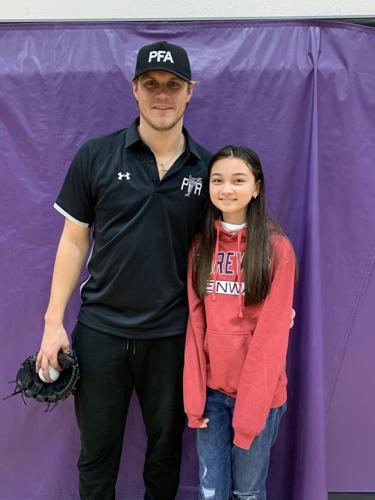 Tanner Houck is another MLB athlete that certainly feels touched by adoption. The Boston Red Sox pitcher's little sister, Reanna, was adopted by their mom when she was four years old.
This year, the Red Sox pitcher has vowed to literally "pitch" for adoption in prior seasons, and has asked others to donate to the cause.
In 2018 and again in 2021, Tanner Houck personally pledged a set donation for every single one of his strikeouts. Each pledge or donation went to the National Council for Adoption, which he explained, "will ensure more children will be adopted out of foster care; women facing an unintended pregnancy will continue to receive comprehensive information on the positive option of adoption; and intercountry adoption will remain a viable, ethical alternative for building families." He pitched for his sister, Reanna, and the many other children around the world who deserve a life of love and permanence.
Tanner has truly been inspired by his little sister. "I remember meeting her for the first time when my mom brought her to my high school baseball game," Houck has said of his sister. "I knew even then she was going to change our lives for the better, and we would help change hers."
4. Babe Ruth was Adopted, as well as an Adoptive Parent
George Herman Ruth was the eldest of eight children born to Baltimore tavern owners Kate Schamberger-Ruth and George Herman Ruth, Sr. While he was just one of the two children to survive infancy, his busy parents placed him in St. Mary's Industrial School for boys when he was just seven years old. They signed their parental rights over to the brothers who ran the institution.
The Catholic orphanage and reformatory became Ruth's home for the next 12 years. Ruth formed a strong bond with Brother Mathais at St. Mary's, who encouraged him to work on his passion and clear talent for baseball. Ruth caught the eye of Talent Scout Jack Dunn at the age of 19, and in order to circumvent the custody order (which was to be set in place until age 21), Dunn became his legal guardian.
"Babe" earned his nickname during an early appearance playing with the Baltimore Orioles. As most baseball fans know, he went on to play for the Boston Red Sox before being traded to the New York Yankees.
Babe Ruth was married twice. During his first marriage, he and his wife, Helen Woodford, adopted a daughter named Dorothy. Babe remarried four months after Helen passed away in a fire. His second wife, Claire Hodgson, was a widow. She also had a daughter, named Julia. Babe and Claire adopted each other's children.
5. Jack Flaherty (Cardinals) was Adopted
St. Louis Cardinals' Pitcher Jack Flaherty has talked about being raised by Eileen Flaherty, a single mom. The 23-year-old explains that he was adopted, and credits Eileen for making incredible sacrifices for both himself and his brother, Grady.
6. Jim Palmer (Orioles) was Adopted
Hall of Famer Jim Palmer had known he was adopted since the age of seven, but he did not have any interest to learn about his biological family until much later in life. The former Baltimore Orioles pitcher adored his adoptive parents. His adoptive father died when he was young, but Jim admired his stepfather so much that he decided to take his last name. When Jim was 72 years old, he was ready to learn about his birth family through DNA testing, at the urging of his wife.
"I lucked out," Palmer said about his upbringing to the Baltimore Sun. "I won the lottery when it came to my adoptive parents and a stepfather in Max Palmer. So, all the time when you're playing, people go, 'Would you like to know [about your biological parents]?' … But it just never presented itself."
7. Tug McGraw (Phillies) was a Birth Father
Franklin Edwin McGraw was one of the most popular baseball stars of the '70s and '80s, working as a relief pitcher for the New York Mets and the Philadelphia Phillies. In 1980, he led the Phillies to their only World Series victory. He learned later in life that he had fathered a son, named Tim, who went on to become a Country music superstar. Tim and Tug reunited when Tim was 18 years old, and the two enjoyed a close relationship until Tug's passing in 2004.
8. Willie Mays (Giants & Mets) is an Adoptive Father
Willie Mays is known as one of the greatest baseball players of all time. In his personal life, he became a father when he and his wife of three years, Marghuerite, decided to adopt. In his personal memoire, My Life In and Out of Baseball, Mays talks about the love he has for his adoptive son, Michael:
"It was in '56 that Marghuerite and I were married. She had a daughter by her first marriage and in '59, in San Francisco, she and I were to go to an adoption agency, and that is how my son Michael came to live with us. He was three days old when we adopted him. I don't know what the chemistry was, but from the first moment I set eyes on him, I knew this was it. And it's been that way ever since… All I can say is, he changed my life, my purpose, my outlook."
9. Eric Sogard (free agent) is an Adoptive Father
Eric Sogard, who previously played for renowned MLB teams like the Chicago Cubs and Tampa Bay Rays, recently chose to grow his family through adoption. Eric and his wife, Kaycee Sogard, always knew they wanted a bigger family. Kaycee explains, "I don't think we had a number. After we had our third, I was definitely ready to be done being pregnant. My pregnancies were not great. I was sick all the time and I knew I didn't want to do it again." Adoption became a wonderful option for them.
Kaycee was familiar with adoption, as her two sisters were adopted out of foster care. She speaks highly of their adoption, explaining how much love it brought into their home.
Kaycee and Eric Sogard started the adoption process with a home study, in which a licensed adoption counselor reviewed their home, conducted background checks, and interviewed the family before approving them to adopt. The couple was approved in January 2019. Four months later, they were blessed with their daughter, Leyla. Then, in March 2020 – just as the pandemic unfolded – they were matched with their son's birth mother. Rye was welcomed into their family. Layla and Rye are just ten months apart, and are able to grow up together alongside their other siblings Saydee, Knix, and Priar.
Eric Sogard said in an interview with Today, "There was really never any difference (between adopted and biological children) — it's just brother or sister. The kids were just excited to have another sibling. It's amazing to see how the children embrace that."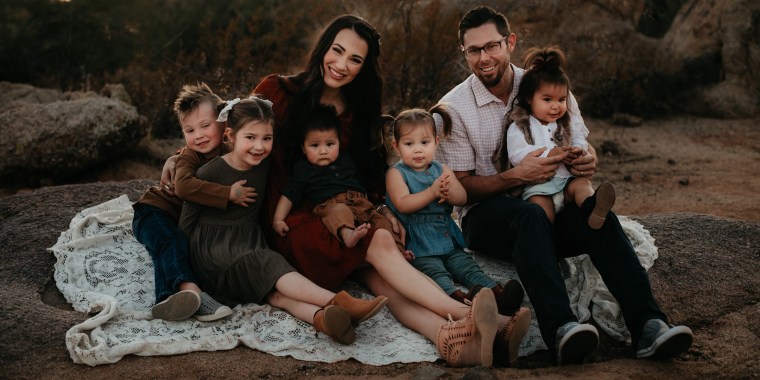 Embracing Adoption This Season
As baseball fans enjoy the 2022 baseball season, remember that adoption is all around us. Many people – neighbors, friends, and famous stars – have been touched by adoption, including many of this classic sports' greatest athletes, today and in the past.
If you or someone you love is facing an unplanned pregnancy, know that adoption is a positive act. Adoptions With Love can help. And if you are interested in growing your family through adoption in Massachusetts, Adoptions With Love can also work with you. Contact us anytime, day or night, at 1-800-722-7731 for more information.